O&M of Seawater Desalination Systems in Large Desalination Plants

Hadera Desalination Plant
Omis Water is the O&M contractor of the Hadera SWRO Desalination plant & is a 100% owned subsidiary of IDE Technologies.
Hadera is one of the world's largest SWRO desalination plants, with a maximum capacity of 160 million m3 / year, contractually producing 137 million m3 / year of high-quality drinking water for ~17% of the population in Israel. Construction of the plant started in 2007 and production started in 2009.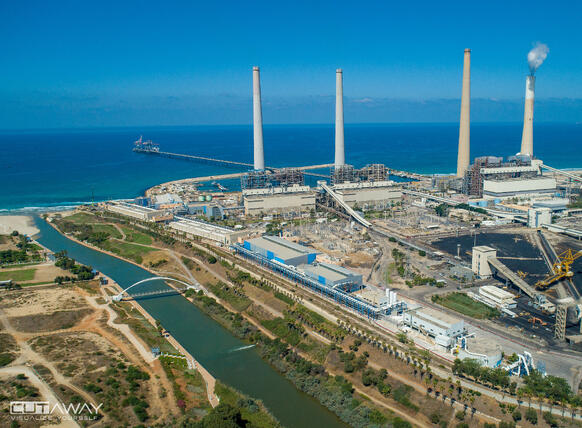 More about the IDE Hadera Desalination plant can be found here
O&M Managerial Objectives – a Top-Down Approach
The Operation & Maintenance (O&M) of a mega-size desalination plant is a challenging task that entails complex process procedures engaging heavy-duty motors & pumps feeding the RO process.
The Hadera plant seawater desalination system has ~53,000 membranes that efficiently transform seawater into high-quality potable water. The plant is composed of hundreds of pumps, motors, check valves, ARV units, tanks & filters, all connected by thousands of meters of piping, controlled by a master control system fed with process data collected online.
Ensuring the constant operation, in the long run, necessitates a professional skill set looking at short & long-term objectives.
The managerial objectives required to successfully run a mega-sized plant are:
Hands-on SHE management – SHE= Safety, Health & Environment
Ensuring plant resilience – "Be prepared"
Understanding & controlling all cost drivers of the plant
Maximizing long term profitability
Constant strive for Quality & Improvement
Stating targets clearly → building work plans to reach those targets → setting up KPI's to measure the realization of work plans → restating targets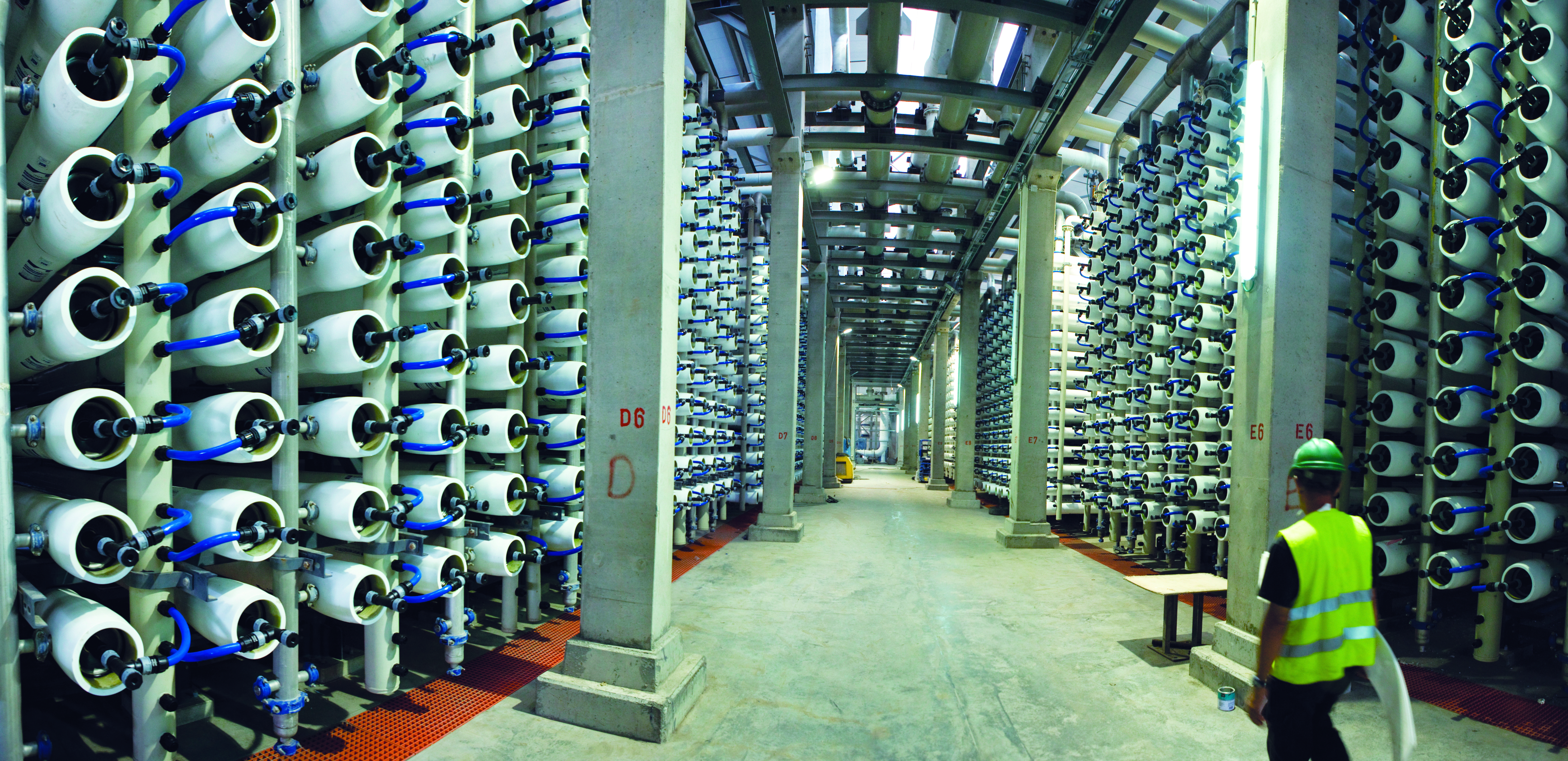 The Hadera plant has ~53,000 membranes that efficiently transform seawater into high-quality potable water
Safety Management
The primary target is to ensure the safety of all employees & visitors to the plant. Thousands of studies & articles have been published on this issue, & I have to give credit to the person who inspired me the most on this issue – Brian Darlington – Head of Safety & Health of Mondi Group. The basic rule for effective safety management is to incorporate a proactive safety culture as part of the organizational culture.
A word on the environment – a seawater desalination plant is empowered by Mother Nature – show respect.
O&M Regimes – Proactive vs. Reactive
A reactive regime calls for firefighting all problems as they appear.
BUT ….
Mega size desalination facilities are complex & dynamic – the process is continuous & any anomaly in a wave will meet you somewhere in the plant.
SO ….
"Be proactive, not reactive". Forecast or predict problems instead of coping with the results of a problem. In short – "Be prepared".
This is true for all aspects of the plant – process engineering, mechanical, electricity, instrumentation maintenance, OT & control engineering, IT, procurement & supply chain.
<< Contact one of our experts >>
Understanding & Controlling All Cost Drivers of The Plant
In depth understanding of all the cost drivers enables achieving & maximizing long-term profitability. Two main areas of focus are Process Efficiency & Maintenance Management.
Process Efficiency
Optimal Production planning – reach all quantity targets/requirements with minimal costs. Optimal production can dramatically reduce the energy cost of the plant.
Forecasting process problems & taking steps to prevent/mitigate them. For example:

Sudden change in seawater quality due to contamination a reaction before reduced quality raw water hits the plant
Fine-tuning the process to prevent or mitigate mechanical wear & tear – reducing flow or increasing feed pressure to assist or compensate before an incident happens.

Membrane maintenance – The Hadera plant has a world-leading record in lifespan of membranes. This is due to utilizing IDE's RO Membrane Management Program (ROMMP) as the best way to keep a constant finger on the plant's pulse, manage the highest value component of the SWRO system – the RO membranes, and ensure their optimal performance is maintained throughout the operation. The program calls for the meticulous upkeep of process procedures that prevent degradation of membranes. The RO membrane management program is comprised of the following major categories:

Routine membrane performance monitoring
Long-term planning of preventive maintenance
Field work and routine maintenance
Membrane replacement planning
Decline in membrane performance adversely affects the output of the plant, in terms of plant productivity, water quality, or additional operational costs (mainly regarding energy requirements).
IDE prides itself that no membrane replacement was required during the first 10 years of the Hadera plant operation. Even without any replacements, the plant was able to produce water at the quality and quantity required according to the production plan and contract. Two main factors are responsible for this outstanding achievement: robust pretreatment, and successful membrane management over the years.
<< Read more about sustainable technological innovation >>
Maintenance Management
The motto of efficient maintenance management is "manage the maintenance, don't allow the maintenance to manage you". Maintenance policies are:
1. Breakdown/ Reactive Maintenance
Unscheduled activities taken as a result of any breakdown in equipment, plant or system in the plant or its premises. To mitigate this need, Hadera has a 24/7 on-call maintenance team, and the levels of urgency are pre-defined and managed by the operation team
2.Preventive Maintenance
Schedules PM routines – daily, weekly, monthly, quarterly, semi-annual, and annual maintenance activities for all major equipment, based on manufacturer guidelines and engineering experience. Example – PIG cleaning of marine pipes – every 3-4 months, as per economic optimization model.
An important measure as to efficiency of maintenance proactivity is the Reactive to Preventive work order ratio
3.Predictive Maintenance
Measures taken on a scheduled basis to identify future upcoming failures or other issues, and to recommend a corrective action.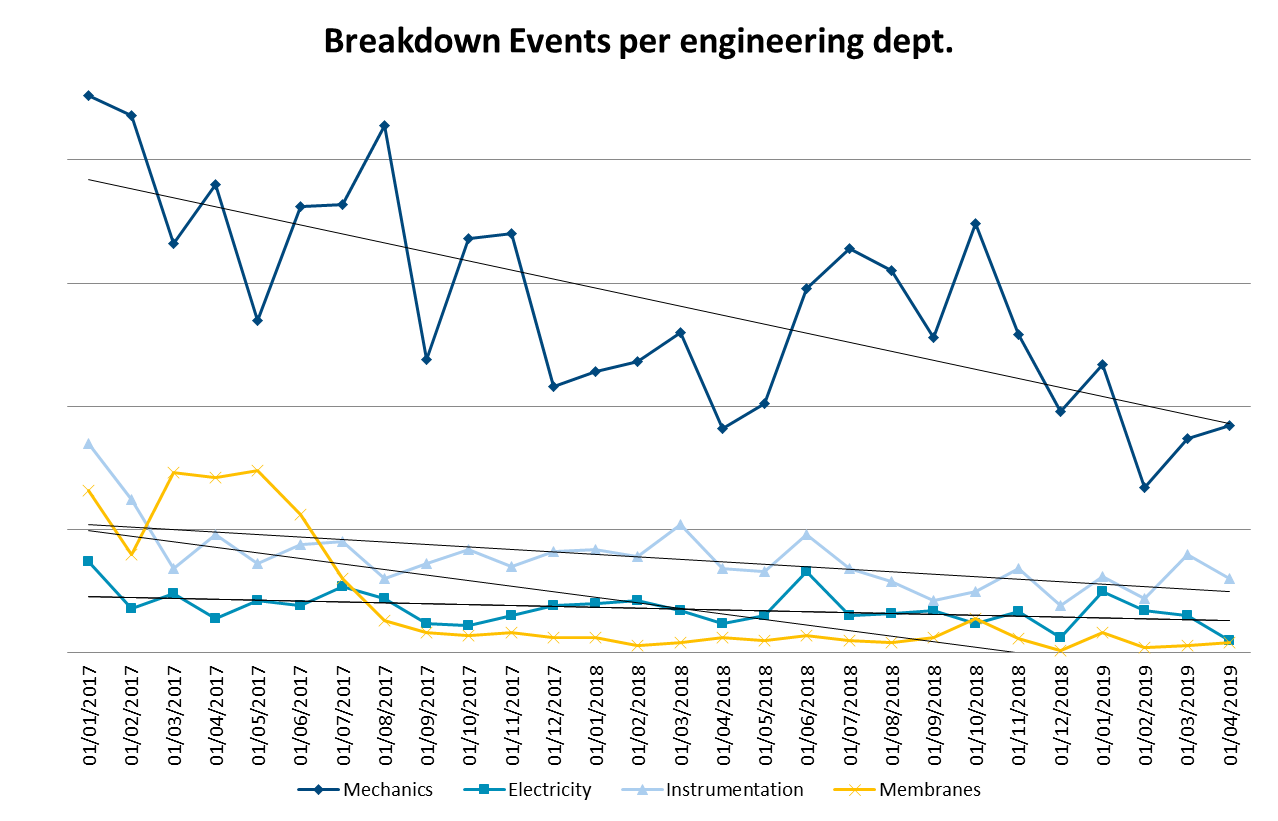 Constant Strive For Quality & Improvement
The way to achieve top-level management of O&M activities is to always strive for both quality & improvement of all activities in the plant.
Human Resource Management
Professional & committed personnel is a Critical Success Factor for ongoing reliable operation of the plant. To ensure the efficient operation of the plant, a skill matrix should be utilized in operation & maintenance teams to define gaps in professional requirements leading to a focused annual training program.
Clarity of targets to all employees by stating targets clearly, building work plans to reach those targets, setting up KPIs to measure the realization of work plans & then re-stating targets. This leads to both quality & improvement of all plant activities.
Conclusion
The operation & maintenance of a mega-size desalination plant is a challenging & costly task. Successful management of O&M is possible by managing with a top-down approach to all aspects ensuring the resilience of the Seawater Desalination plant.
Don't Miss Out on IDE's Latest stories