IDE'S MODULAR PREFABRICATE DESIGN (MPD)
Complex Desalination Simplified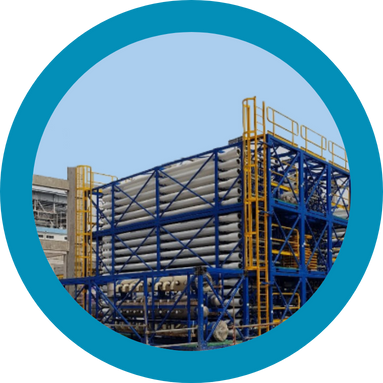 IDE's modular prefabricated design platform provides simple and flexible designs for a wide range of desalination plants.
With our MPD prefabricated modules, all manufacturing and pretesting work is completed at off-site workshops with a highly controlled QA/QC environment, minimizing on-site work and ensuring the highest manufacturing standards. This allows the plant to easily expand to meet changing needs by using the module's existing capacity or adding additional modules
The MPD is available in a range of sizes that can produce total product capacity of as low as 1000 m3/day and up to 32,000 m3/day complete RO systems, equipped with integrated pre-treatment and the Reverse Osmosis module itself.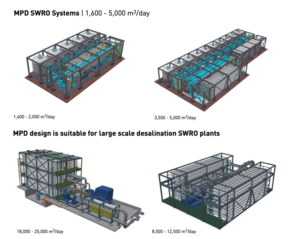 This economical and sustainable solution for building desalination plants significantly reduces installation time by up to 70% and offers considerable CAPEX and OPEX savings. The unique design involves highly pre-engineered and pre-assembled modules, which minimize costly on-site installation time. 
To achieve this, the metal skids fabrication, the tailor-made pre-fabrication of the piping, as well as the equipment and piping assembly, is performed in a controlled workshop. This prefabrication process ensures that the system's quality and reliability are of a high standard.
The modular design allows for plug-and-play assembly of the system, with each large module consisting of 12 skids, which can produce up to 32,000 m3/day. The number of skids can be customized according to the customer's needs, and any plant can be easily expanded to meet future requirements.
The skids are precisely sized to fit a 40-foot container, enabling quick and cost-effective transportation to the desalination plant while reducing installation time. Additionally, a skid-mounted energy recovery system can be included in the design, making the system highly energy-efficient.
Some of our Modular Prefabricated Design RO plants:
Jurong Island Desalination Plant, Singapore
Contact an IDE Expert
Would you like more information about our technologically advanced solutions?