Formosa Petrochemical Corporation Selects IDE Technologies to Build and Operate Its SWRO Desalination Plant
Published: 27/06/17
The plant will utilize IDE's boron removal system to meet Formosa's requirement for low boron concentration.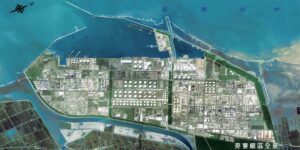 Kadima, Israel – June 27, 2017 – IDE Technologies, a world leader in water treatment solutions technology, today announced that it has been commissioned by Formosa Petrochemical Corporation (FPCC), engaged in the refining and distribution of oil products, to build its Seawater Reverse Osmosis (SWRO) desalination plant. The desalination plant will be located at the Mai-Liao Power Corporation in Yunlin County, Taiwan, and have a capacity of 105,000 m³/day. The plant will produce high-quality water for industrial applications.
IDE is providing Formosa with a solution that optimizes energy and chemicals consumption, while also being highly cost effective. The government recently reduced water rights for Formosa from natural sources to support agriculture, requiring the company to seek an independent water supply. IDE's solution in this new SWRO desalination plant will help the Mai-Liao Power Plant meet its water requirements and comply with the local regulations for discharge of blowdown water.
This desalination plant will utilize IDE's boron removal system to be the world's first to reach the extremely low and challenging boron concentration level requirement of less than 0.01 ppm.  IDE will design the Formosa desalination plant, supply and install equipment, commission the plant, and supervise operation and maintenance for two years.
"We're proud to partner with the Formosa Petrochemical Corporation to create this leading-edge SWRO desalination plant," said Amnon Levy, CEO of IDE Projects. "The quality of the boron in this plant is extremely low, which was an exciting milestone for us to reach. With our technology, we've managed to produce an industry-first of this magnitude while maintaining high water quality."